Boulder
Sheriff
George Epp




The transaction took place on January 3, 1997.

Twelve days later on January 15th, Brett Allen Sawyer, 38, a former Lafayette police officer and a former Boulder County sheriff's deputy was charged with obstructing government operations.

Also charged was Lawrence Shawn Smith, 36, a printer at the Photo Craft Laboratories, a Boulder photography company, with two felonies - theft of more than $400 and tampering with physical evidence - as well as two misdemeanors - obstructing government operations and false reporting to authorities.

Sawyer provided the photographs to the Globe and received $5,500; a $5,000 bonus and $500 in fees and expenses, according to the arrest report. On Jan. 9, Sawyer paid Smith $200 in cash.

Prior to the arrests, on January 13, 1997 Boulder County Sheriff, George Epp reported that six individuals from the coroner's office and the photo lab that processed the coroner's crime scene pictures had been given lie detector tests in relation to the photos of JonBenet Ramsey that were sold to a tabloid newspaper

The Boulder County Commissioners voted to file a temporary restraining order against the Globe and to initiate a civil lawsuit against the tabloid. The lawsuit would permanently keep the Globe from printing more of the pictures, order the Globe to return the photos. Reports were that the Globe had 7 of the coroner's 113 photos taken.

The media reported that the arrest report stated that Sawyer told Smith he represented the Ramseys' independent investigative team.

Ex-Cop and
Former Deputy
1980-1981
Brett Sawyer

Photo Craft
Employee
since 1987
Shawn Smith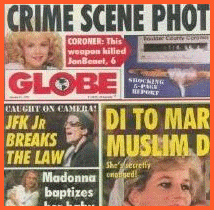 The Globe
Published
JonBenet
Crime Scene
Photos