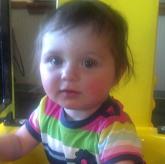 Elaina Steinfurth (age 18 mo) MISSING - Toledo, Ohio - June 2, 2013
Elaina Jade Steinfurth, 18 months, missing June 2, 2013, Toledo, Ohio. Her mother, Angela (Mories) Steinfurth called her boyfriend's mother (Julie King) around 6:30-7:00pm on Saturday, June 1st, 2013 saying they had no place to stay and asking if she could stay overnight with her two children, Elaina, 18 months, and Kylee, age 4. On Sunday, June 2nd, the two children's father, Terry "TJ" Steinfurth, Jr. showed up to pick them up, at which time Angela informed him that Elaina was suddenly missing! Elaina was last seen at the Steven King's home, 704 Federal St. in East Toledo, Ohio
Elaina has blue eyes and brown hair, approx. 2 feet tall, weighs 21 pounds. She was last seen wearing orange shorts with flowers.
---
Call if you have Information: Toledo Police at 419-936-8995 or Crimestopper at 419-255-1111