07-11-2005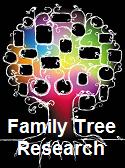 Erica Parsons' Biological Paternal
G-Mother
Cloie Lou "Demie" Jenkins Goodman
---
Billy Dean Goodman's Mother
---
Erica Parsons' REAL Paternal Biological Grandmother passed away
---
.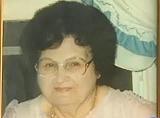 Cloie Lou "Demie" (Jenkins) Goodman
Erica's Grandmother
b: 06/30/1929
Ashe County, NC
d: 07/11/2005
---
(Excerpt from interview or article) - (www.ancestry.com 07/11/2005):
http://search.ancestry.com
"Cloie Lou Demie Jenkins Goodman
KANNAPOLIS - Cloie Lou Demie Jenkins Goodman, 76, formerly of 428 Central Ave., went to be with Jesus on Monday, July 11, 2005, at Avante of Concord Nursing Center, after being in declining health for four years. The funeral will be 2 p.m. Thursday, July 14, 2005, at Whitley's Funeral Home Chapel, Kannapolis. The Rev. Dean Mitchem will officiate. Interment will be at West Lawn Memorial Park, China Grove. The family will receive friends from 7 to 9 p.m. Wednesday at Whitley's Funeral Home.

Mrs. Goodman was born June 30, 1929, in Ashe County, the daughter of the late Wiley Jenkins and the late Rosabelle Jenkins. She was employed with Cannon Mills Company Plant 1, No. 2 Weave Room for 44 years until her retirement in 2003. She was a member of Ben Avenue Freewill Baptist Church, Kannapolis. She was a resident of the area for many years.

She is survived by her husband of 54 years, Walter Worth Goodman; three sons, Roger Goodman of China Grove, Billy Goodman and Ray Goodman, both of Kannapolis; four daughters, Brenda Odom of Kannapolis, Marie Jones of Jefferson, Wanda Ferguson of West Jefferson and Teresa Goodman of Cleveland, N.C.; one brother, Harley Jenkins of Jefferson; and one sister, Frances Ballard of Jefferson; 22 grandchildren; and 12 great grandchildren.

The family will be at the home of his son Roger Goodman, 114 Elm St., China Grove. Memorials may be made to the Alzeheimer's Association, Western Carolina Chapter, 3800 Shamrock Drive No. 999, Charlotte, NC 28215-3220. Whitley's Funeral Home is serving the family of Mrs. Goodman."