02-00-2012
Online Media
---
Erica's birthday was February 24th
---
Casey Parsons didn't know "Nans" address but they gave full approval for Erica to stay living there with "Nan."
Casey Parsons said "Nan" invited her whole family, including their parents to the bowling alley birthday party.
---
Casey Parsons then said "they" called and said Erica didn't want Casey and her family to come to the birthday party but yet Erica wanted to stay at "Nans."
---
---
.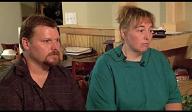 Casey Stone Parsons and Sandy Wade Parsons Interviewed 08/09/2013

---
Interview Part 2
PDF File Here
---
Casey Parsons said a week later she tried to call "Nan" and their phone was disconnected. And NO, she didn't have an address where Erica was staying with "Nan."
(Excerpt from interview or article) - (www.salisburypost.com 08/10/13): Adoptive
Parents say they think missing teen is OK, scared to come forward
Casey Parsons: "Yeah, we talked to her over the phone when she was gone and everything- all three times. But, then in December it was a three week- that's the longest she'd been gone was the three week one. And then, of course- about, it wasn't right to the very dead end of three weeks. They called and she just wanted to extend the stay and we agreed on that after a little bit of talk. Then her birthday come up and it come up to her birthday and they wanted to extend that and we was gonna go to a birthday party up there and Nan was going to bring her to a bowling alley. And, my whole family was invited. My parents, all of us. And then, it was about a week before her birthday when they called to let me know that Erica- I knew that didn't come back was going to come up anyway- I was just wondering when it was going to finally be asked cause it was hinting around longer. Stay a little bit longer, stay a little bit longer."
---
Casey Parsons: Well, about a week after the conversation about the not coming to the birthday party, Erica did not want us at her birthday party. And, that was the whole same conversation about her staying there. Um, we was very hurt then but, we- I called about, I would say probably about a week later and several other times too because I didn't know if it was just her phone got disconnected from nonpayment- it would only say it was not receiving phone calls at this time. So..

Reporter: Did you have an address?

Casey Parsons: No. I didn't.