02-24-2013
Online Media
---

Carolyn Parsons Private Facebook messages with Casey Parsons
Timeline
Dates Related:
April 2010
May 2010
---
Jan 5, 2011
Jan 11, 2011
Feb 2011
Nov 2011
---
Feb 24, 2013
Mar 20, 2013
---
Casey Parsons:
"I'm not going to be mean"
---
---
.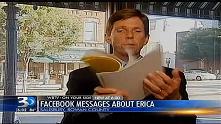 WBTV Reporter David Whisenant flipping through printouts of Carolyn Parsons Facebook Messages
---
This Reference:
Feb 24, 2013
---
(Excerpt from interview or article) (www.wbtv.com 09/04/13)
Online messages show contradictions in story of missing teen
"Nearly a year later, Casey finally responded to a message. "Carolyn, Erica is doing perfect. Don't know why all these rumors are floating around about where she is. Sandy and I still have custody of Erica and she is our daughter," Casey wrote on February 2013, a year after she told investigators she last spoke to Erica. "We are, as parents, can allow our children to spend the night or even week with anyone who we see fit. Erica is still OUR daughter."
---
Casey told Carolyn that she hasn't sent her any new pictures or updates because Erica asked her not to. "I'm not going to be mean. I have never hated you and I never will," Casey Parsons wrote. "You have been through a lot in you life. I talk with Erica and try to explain this so she will start to accept you. Just today I said something to her. It takes time. Please don't worry about her."
---
She then says the three of them could probably meet again soon, saying she thought Erica would agree to it. "Everything you did for her was done out of love," Casey wrote."One day Erica will see this!! She's a teenager and you know what that is like."
---
There are several similar conversations over the next few months, including one in which Casey tells Carolyn that they recently had a family portrait made at "Young's Studio" in Locust. She says when the pictures were ready, she would send a copy to Carolyn."