11-00-2011
Online Media
---

Carolyn Parsons Private Facebook messages with Casey Parsons
---
Timeline
Dates Related:
April 2010
May 2010
---
Jan 5, 2011
Jan 11, 2011
Feb 2011
Nov 2011
---
Feb 24, 2013
Mar 20, 2013
---
---
.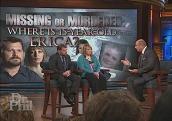 ---
Casey and Sandy Parsons on Dr. Phil Aug 20/21, 2013
---
This Reference:
November 2011
---
(Excerpt from interview or article) (www.salisburypost.com 09/06/13)
Online chats contradict parents' story about missing teen Erica
Transcripts of online conversations obtained by the Post show that missing teen Erica Parsons' adoptive mother was giving updates about her life during a time she now says the teen was missing. The messages were sent to Erica's biological mother, Carolyn Parsons."
---
"Casey and Sandy Parsons, Erica's adoptive father, have told authorities and said in interviews they haven't seen Erica since November 2011 and last spoke with her by phone in February 2012."
---
"Casey and Sandy Parsons have maintained Erica is with her biological grandmother, Irene Goodman, in Asheville. Authorities say that's not true, and other family members say there is no such woman."
---
In a November 2011 message, Casey told Carolyn that Erica went camping with Tammy, Casey's sister."