10-06-2012
Public Online
---
Notice that Erica was NOT included as one of the girls in the family!!
---
Website undated but domain name was registered on 10/06/12 and first online ad referencing this domain was on 10/11/12 so the website was created between those two dates
---
Casey Parsons Children:
Sandy II (20)
Jamie (19)
Brook (16)
Erica (14)
Sadie (8)
Toby (6)
---
Since Casey says she has 3 boys and 2 girls, then Casey obviously doesn't include Erica as part of the family.
---
---
.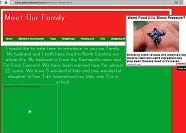 ---
---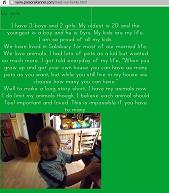 ---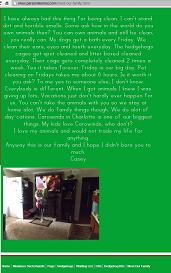 ---
Parsons Kennels
Owned by Sandy & Casey Parsons
Salisbury, NC
parsonskennel@att.net
cparsons1375@live.com
Parsons Kennel "Meet Our Family"
http://www.parsonskennel.com/meet-our-family.html
"I would like to take time to introduce to you our family.

My husband and I both have lived in North Carolina our whole life. My husband is from the Kannapolis area and I'm from Concord. We have been married now for almost 22 years. We have 5 wonderful kids and one wonderful daughter-in-law. I do homeschool my kids, only 3 is in school.

My oldest son is in active duty in Fort Bragg, NC. He did his basic & Airbourne in Ft. Benning, GA. We are very proud of him. We do get to see him almost every weekend. That is going to probably be changing though. He could possibly be sent to Alaska in the very near future. I am going to have a very hard time with this! He married a very wonderful girl in Aug. 2011. Hopefully in the near future we will be grandparents. (Not to put pressure on him though)

I have 3 boys and 2 girls. My oldest is 20 and the youngest is a boy and he is 6yrs. My kids are my life.

I am so proud of all my kids.

I have always had this thing for being clean. I can't stand dirt and horrible smells. Some ask how in the world do you own animals then? You can own animals and still be clean, you really can. My dogs get a bath every Friday. We clean their ears, eyes and teeth everyday. The hedgehogs cages get spot cleaned and litter boxed cleaned everyday. Their cage gets completely cleaned 2 times a week. Yes it takes forever. Friday is our big day. Pet cleaning on Fridays takes me about 6 hours. Is it worth it you ask? To me yes to someone else, I don't know. Everybody is different. When I got animals I knew I was giving up lots. Vacations just don't hardly ever happen for us. You can't take the animals with you so we stay at home alot. We do family things though. We do alot of day-cations. Carowinds in Charlotte is one of our biggest things. My kids love Carowinds, who don't?

I love my animals and would not trade my life for anything.

Anyway this is our family and I hope I didn't bore you to much."