2007-12-17


Click Here
More Detail
Property Info
ALSO SEE: 01/16/09
ASSIGNMENT
OF MORTGAGE
Rodman Development,
Joe Rodman Sr.,
Shakespeare & Associates TO:
American Medical Professionals PEO, LLC
---

Page 2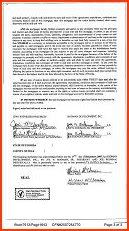 Page 3
---
Jodi McClanahan:
Probation Felony (FL)
Began: 02/29/2008
Term: 04/08/2029
MORTGAGE
12/17/2007
Rodman Development,
Joe Rodman Sr.,
TO: Shakespeare & Associates
$52,000.00
---
Documents Prepared by: Jodi McClanahan, Attorneys Title Center, 2563 Barnes Road, Auburndale, FL 22823, Telephone: 863-661-7313
---
Jodi McClanahan
aka Jodi V Outlaw
aka Jodi Bullock
(DOB: 04/07/60)
Notary ID: 811027 Cert: CC 694583 Issued: 11/06/97, Expired: 11/05/01
Polk County Florida Clerk of Courts
Type: MTG, File No.: 2007254770, Date/Time: 12/21/2007 08:04:46, Book Type: O, Book/Page: 7513/1641, Pages: 3, Consideration: $52,000.00, Legal: PT NORTH LAKELAND ADD BLK B LTS 1 & 2, Grantors: Rodman Development Inc, Rodman Joe Sr, Grantees: Shakerspeare & Associates."
---
Page 1; EXCERPT FROM THE DOCUMENT: "MORTGAGE. This Mortgage Deed executed the 17th day of December, 2007 by Rodman Development, Inc., A Florida Corporation, existing under the laws of the State of Florida, and Joe Rodman, Sr., Individually hereafter called the mortgagor, to Shakespeare & Associates, LLC, hereafter called the mortgagee. THE SOUTH 1/2 OF LOTS 1 AND 2 IN BLOCK B, OR NORTH LAKELAND ADDITION, K ACCORDING TO THE MAP OR PLAT THEREOF AS RECORDED IN PLAT BOOK 71, PAGE 144 PUBLIC RECORDS OF THE POLK COUNTY, FLORIDA"
---
Page 2: EXCERPT FROM THE DOCUMENT: "Date: "December 17, 2007, NOTE, Auburndale, FL, Amount $52,000.00 FOR VALUE RECEIVED the undersigned promises to pay to the order of SHAKESPEAR & ASSOCIATES,LLC. the principal sum of $52,000.00 (Fify Two Thousand and 00/100) DOLLARS together with interest thereon at the rate of 8.00% (eight percent) per annum from DATE OF EXECUTION HEREOF until maturity. (Payable at; Payment shall be sent to: 2563 Barnes Road, Auburndale, FL 33823.)"
---
Page 3: EXCERPT FROM THE DOCUMENT: "WITNESS: Jodi McClanahan, WITNESS: Michael McClanahan. NOTARY: Michael McClanahan"
(Notary ID: 1191184
DOB: 03/09/58, Trans Type: NEW, Cert: DD 682301, Status: ACT, Issue Date: 06/06/07, Expire Date: 06/05/11, Bonding Agency: Huckleberry Notary Bonding, Inc., Mailing Address: 2563 Barnes Rd, Auburndale, FL, 33823)."