2007-03-25
www.kcchronicle.com
March 25, 2007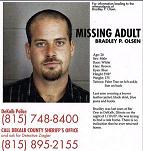 "Tom Dewese a licensed clinical social worker at TriCity Family Services in Geneva, said every family reacts differently in missing person situations. In most cases, though, family members have a sense of hope, Dewese said. "There's always a little bit of hope," he said."
Susan Olsen:
"If I find him, I'll have closure," she said. "We're preparing ourselves for the worst." At the same time, she understands how some families might believe their missing loved one might return safely. "I'll always be looking. We're looking wherever we go," she said."
ILL
03-25-2007 (www.kcchronicle.com) "Living in 'limbo'"
"Hope can be a powerful emotion, but it also can fade. Either way, it's present in the minds of the families searching for missing loved ones. In the first three months of 2007, two Kane County men have joined the more than 50,000 active missing-persons cases across the nation, according to the National Center for Missing Adults. The families of John Spira and Bradley Olsen continue to publicize their stories and actively search for them. While fearing the worst, they continue to hope that their loved ones will safely return."
---
"Sue Olsen of Maple Park said she was searching for closure as much as she was searching for son, Bradley Olsen. He's been missing since Jan. 19 when he last was seen at a DeKalb bar. The family has directed two searches, using a helicopter and all-terrain vehicles. They searched through forest preserves, in ditches and remote areas. Sue Olsen said she knows her son has been harmed."
---
"Stephanie McNeil has spent the past four weeks wondering where her brother is. John Spira, 45, of St. Charles last was seen Feb. 23 at his office in West Chicago. Spira's family has conducted searches, posted fliers, and contacted media outlets. When McNeil heard that her brother was missing, she said, she immediately thought that foul play must be involved. Still, McNeil said, she clung to some hope that he might be OK."
---
"Lorna Smith can hear doubt in the voices of those that talk to her about her daughter, Tyesha Bell. The 22-year-old went missing from her Aurora home in May 2003. While others might doubt Bell is alive, Smith said she hasn't let go of the hope that she'll talk with her daughter again. "I'm holding onto hope until they prove me different," she said. Aurora police spokesman Dan Ferrelli said investigators have identified someone who might be involved in Bell's disappearance, but no charges have been filed. "What keeps me together is prayer," Smith said."