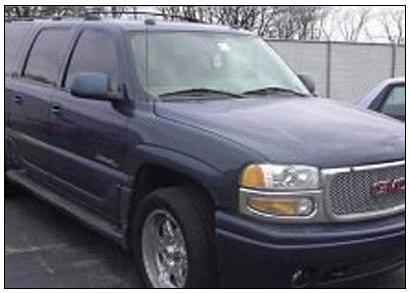 2005 GMC Dark Blue Yukon Denali SUV

If you have seen either of these vehicles on
Sun Oct 28 or Mon Oct 29, 2007 area
Bolingbrook, Plainfield or Shorewood IL
Police asked the public to call tipline:
Illinois State Police at "1-815-740-0678" or
America's Most Wanted at "1-800-CRIMETV"
AMW program featured this ALERT on
Saturday 11/24/2007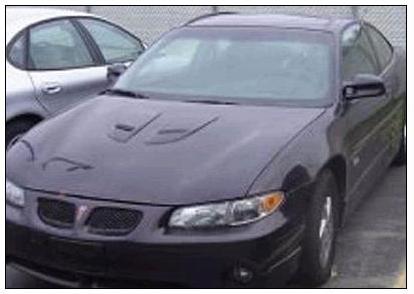 2002 Purple Pontiac Grand Prix

TRUCKERS CLICK HERE


---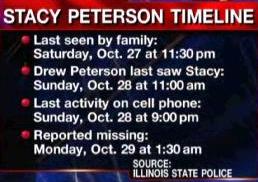 11/24/2007 Illinois State Police
Official Stacy Peterson Missing Timeline
[found on www.myfoxchicago.com]


---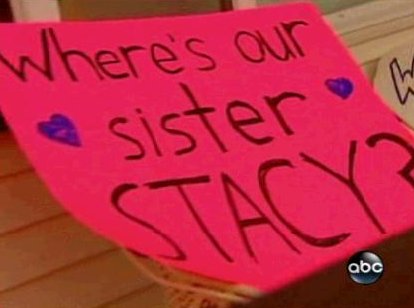 11/17/2007 Sunday Vigil
Stacy Peterson - Kathleen Savio
[found on abcnews.go.com]


---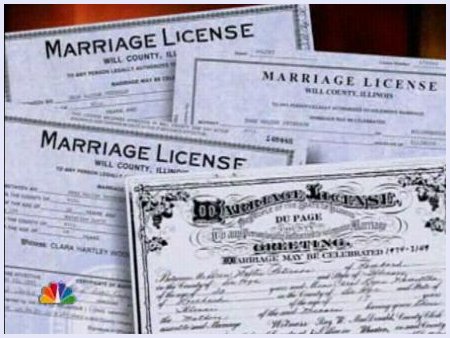 'TIL DEATH DO WE PART
---
THEY GOT IT COVERED !
Almost Everything Under The Sun
---
HEAD COUNT TALLY:


---
MATERIALS:
Downloads/Transcript Links

---

UNSOLVED MYSTERIES

Christie Cales Timeline

More Missing, Murdered, Suicide
- Vicki (Wife#2) Boyfriend Murdered?
- Tom Morphey's Wife Missing ?
- Stacy's Mother Christie Missing?
- Monica's Brother Suicide?
- Kathleen (Wife#3) Died/Murdered?
- Stacy (Wife #4) Missing
- Thomas Morphey Attemped Suicide


---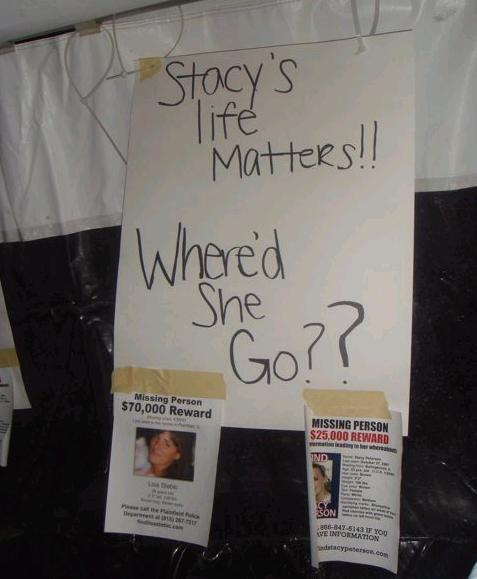 Photo from Greta's OTR
Producer Cory Howard


---

SIDE SHOWS & SIGHTINGS:

The Peoria Letter (11/21/2007)
Stacy sighting shopping at Krogers!

Brownlee v. Peterson et al (12/17)
A barber with broken thumb

Bychowski Grave Hoax (12/26/07)
50 5x7 photos and unmarked grave

The Kentucky Letter (12/29/2007)
Stacy sighting in mall parking lot

Peoria Dream Center (01/02/2008)
Stacy at Homeless Center

Stacy in Thailand ! (02/01/2008)
Stacy at fast food in Thailand

Stacy in Jamaica ! (05/01/2008)
Stacy at Sandals resort Jamaica


---
.
---
ACCORDING TO HOYLE
A Savio Death Scenero TIP
---

WITNESS AND OTHERS

The Anthony Bindy Rock Files
Convicted Cop Killer, Alledged Loan shark, Mob connections

The Anthony Cales Files
Stacy Peterson's Father

The Alex J. Morelli Files
Drew Peterson's Former Partner
Witness to Kathleen's WILL

The Betty Morphey Files
Drew Peterson's Mother

The Bruce Zidarich Files
Last to speak with Stacy Peterson October 28, 2007

The Carol Brown Files
Drew Peterson's 1st Wife

The Cassandra Cales Files
Stacy Peterson's Sister who filed Missing Person report Oct 28, 2007

The Gary Marcolina Files
Best Man at Drew's Wedding
Witness to Kathleen's WILL

The Grand Jury
Stacy Peterson Missing
& Kathleen Savio Murdered

The Harry Smith Files
Kathleen Savio Attorney and
Stacy contacted him re: Divorce

The James Mitchem / Son Files
Neighbor And School Principal

The John Morphey Files
Drew Peterson's Step Brother and Witness to other brother, Tom Morphey's story

The Kathleen Savio Files
Not an accident but HOMICIDE

The Keith Rossetto Files
Stacy's Former Boyfriend

The Kim Matuska Files
Drew Peterson's new 22 year old Girlfriend March 2008

The Kyle Piry Files
Drew Peterson Former Fiancee' for four months in 1980

The Larry W Blum MD Files
Forensic Pathologist
( KathleenSavio Murder Case)

The Lenny Wawczak Files
Peterson Former Long time friend, turned Illinois State Police Informant, aka Drew Peterson's anonymous online girlfriend *real_ashley*

The Lisa Ward Files
Drew Peterson's ex-Step Daughter when married to Victoria Connley

The Marcus Patterson Files
Worked in Gang Suppression Unit

The Michael J. Robinson Files
Report that he moved Stacy's car to Clow Airport the day she disappeared October 2007
Witness Intimadation Charge?

The Neil Schori Files
Stacy told him Drew killed Kathleen

The Paul D. Peterson Files
Drew Peterson's Brother

The Paula Stark Files
Peterson Former Long time friend
Illinois State Police Informant

The Peterson Children Files
Thomas, Kris, Anthony, Lacy

The Pontarelli Family Files
Thomas, Mary, Nick Pontarelli
Witness Finding Savio Body

The Ric Mims Files
Drew Peterson's Former friend

The Scott Rossetto Files
Sent text messages to Stacy

The Sharon Bychowski Files
Stacy's Neighbor / Good Friend

The Stephen P. Peterson Files
Drew Peterson's Son

The Steven J. Carcerano Files
Found Kathleen Savio's body

The Steven P. Maniaci Files
Kathleen Savio's Boyfriend

The Thomas Morphey Files
Did he help dispose Stacy's body?

The Thomas Morphey Family
Mike, Sue, Deb, John, Jim, Sheryl
Defending A Brother and Husband

The Vicki Connolly Files
Drew Peterson 2nd Wife

The Walter Martineck Files
Witness to Tom Morphey's story


---

VIGILS & FUNDRAISERS

Stacy Peterson Vigil Events
Including Savio, Stebic and Others

Stacy Peterson Fundraiser Events
Screen Captures, Photos and More


---

OTHER INTERESTS

Blue Container
Witnessed being moved to SUV

Cell Phones & Text Messages
Cell Phones and Cell Phone Calls

Clow International Airport
Was Stacy's car really there?

Cushing Field Airport
Where Drew keeps his Aquilla Trike

Gun Incidents and Gun Issues
Nothin' says I love you like a Glock

Savio 2004 Coroner's Jurors
Some 2004 jurors speaking out

Stacy Peterson Sightings
According to Drew Peterson

Suds Pub Bar and Grill
AKA Blue Lightning Corporation


---
.
---

NEW ! - NO FRILLS
PRINTER FRIENDLY:

Transcripts and Recaps
Media-Video-Interviews-pdfs


---
LINKS:
News, Tools, Research
---

TIMELINE RECAPS:

Recap prior to 2007

2007:

Recap 01/01/07 - 10/27/07

First Four Days:

Recap 10/28/07 - 10/31/07

November 2007:

Recap 11/01/07 - 11/15/07

Recap 11/16/07 - 11/30/07

December 2007:

Recap 12/01/07 - 12/15/07

Recap 12/16/07 - 12/31/07

January 2008:

Recap 01/01/08 - 01/15/08
-Sharon Bychowski to GJ
-Pontarelli Family to GJ
-Amazing Kreskin Enters
-Nick Savio new Web site
-Kentucky Sighting Released
-A&E-Who is Drew Peterson?
-Michael Robinson Arrested
-Peterson Hires Publicist
-Kathleen's Will Subpoenaed

Recap 01/16/08 - 01/31/08
-Stacy's old Cell Text Msg
-Michael Robinson Hotbox
-Tom Morphey-ISP Custody
-ISP: Drew is still Suspect
-Brodsky: Stacy had affair
-Stacy 24th Birthday Vigil
-Ashley Blowing Drew Kisses
-Win a Date w/Drew contest
-Grand Jury Extended 4mo
-Ric Mims to Grand Jury
-Mims: Drew surveillance
-Cassandra Cales to GJ
-Bruce Zidarich to GJ
-Peoria Sighting AGAIN
-Savio POA Signature?
-Peterson on Wed Pics
-Amazing Kreskin Exits
-Drew walks off Fox Interview
-Deb Valure: Brodsky is PIG
-Body: Chicago Southside
-Drew gets Ashley's Phone#
-Mims: Stacy Cell and GPS
-Drew Windows Sell on Ebay
-Drew NO on Moment of Truth
-Drews getting death threats
-Drew spoke w/20Yr Ashley
-Drews wants divorce
-Savio petition to open estate
-Mims helped Track Kathleen
-Drew, Kids to Wisconsin

February 2008:

Recap 02/01/08 - 02/15/08
-Drew hires Andrew Abood
-Ann Chamberlain Witness
-Stacy poster on Ric's Blog
-Stacy in Thailand Sighting
-Mims Blog taken off line
-Mims Webmaster arrested
-Aerial Images Released
-Brownlee drops Peterson
-Savios Court date
-M.Glink rep/Susan Doman
-Bindy Rock subpoenaed

Recap 02/16/08 - 02/29/08
-Tailgaters Bar Fight
-Carol Penning CSC Meet
-Kathleen's Death Homicide
-"Bindy" Rock testified
-Political Finger Pointing
-Stacy Fundraiser Announced
-Peterson kids Subpoenaed

March 2008:

Recap 03/01/08 - 03/15/08

Recap 03/16/08 - 03/31/08

April 2008:

Recap 04/01/08 - 04/15/08

Recap 04/16/08 - 04/30/08

May 2008:

Recap 05/01/08 - 05/15/08

Recap 05/16/08 - 05/31/08
-Drew Peterson ARRESTED

June 2008:

Recap 06/01/08 - 06/15/08
-Yelton Cales RELEASED
-Drew's Hat on Ebay
-Kathleen's Tub SEIZED
-Sharon's Camera Discovered
-Harry Smith to GJ

Recap 06/16/08 - 06/30/08
-Drew's House EGGED
-Drew in National Enquirer
-Ashley's Blog: Drew Busted
-CrimeRant on Drews Book
-Thomas Peterson to GJ
-Brodsky slams M.Phelps
-Brodsky Damage Control

July 2008:

Recap 07/01/08 - 07/15/08
-Ashley's Blog: Drew Busted
-Ashley has new forum

Recap 07/16/08 - 07/31/08

August 2008:

Recap 08/01/08 - 08/15/08

Recap 08/16/08 - 08/31/08


---

DETAILS:

Family History Timeline #1
1972 thru 10/27/2007


---
.
---
CrimeRant Poll 07/03/08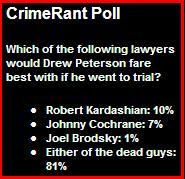 ---
LET'S FACE IT !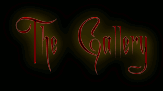 ---
JUSTICE FOR KATHLEEN SAVIO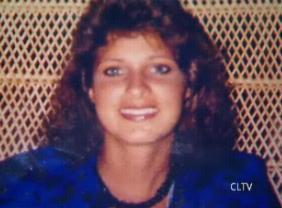 ---
STACY'S GARDEN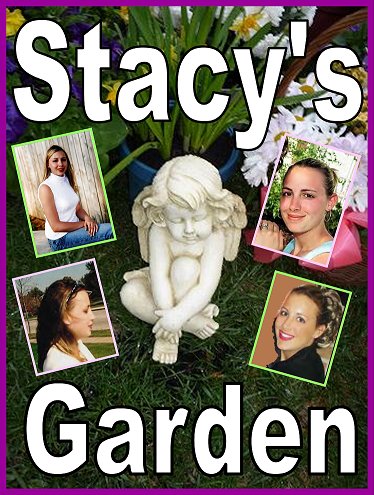 PHOTOS HERE
---
People Magazine
December 3, 2007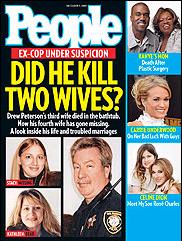 CHICAGO TRIBUNE VIDEO
11/22/2007 "Drew Peterson on cover of People":
"Peterson's big article in the new People Magazine comes with the headline "Did he kill two wives?" Drew Peterson tells the magazine he's expects to be arrested. He also said the woman in his life disappointed him. He expected his wives to be good housekeepers but they weren't."


---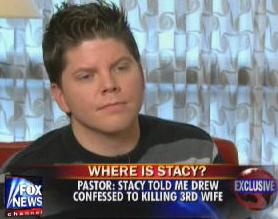 12/10/2007 Stacy Peterson's Pastor Goes 'On the Record' with Greta
VAN SUSTEREN: "Did she have any solid information he did it? Let me back up a second. He actually confessed to her to having killed Kathleen Savio?"

SCHORI: "Yes."


---

Search Warrants:
Transcribed by www.acandyrose.com

October 31, 2007 Warrant
House, Cars, Computers

November 1, 2007 Warrant
Motorhome, Pool Storage

November 6, 2007 Warrant
Missing Apple Laptop

December 4, 2007 Warrant
Search/Seizure 2 Vehicles


---

Other Timeline Histories
by www.acandyrose.com

Bradley Olsen Missing (IL)
Missing Since 01/19/2007
JonBenet Ramsey (CO)
Murdered 12/26/1996
Lisa Stebic Missing (IL)
Missing Since 04/30/2007
Paige Birgfeld Missing (CO)
Missing Since 06/28/2007
Rosa Lisowski (CA)
Missing Since 03/24/2008
Roberta Daniel Murder (OK)
Murdered 01/02/1988
Vaughn Family Killings (IL)
Murdered 06/14/2007
Yana Huss Murder (FL)
Murdered 04/25/2007


---

Other Missing Person Sites

John Spira Missing (IL)
Missing 02/23/2007
Christie Cales Missing (IL)
Missing 03/11/1998
Rachel Mellon Missing (IL)
Missing 01/31/1996
Rachel Cooke Missing (TX)
Missing 01/10/2002

Texas EquuSearch Flyers:
Rachel Cooke Missing (TX)


---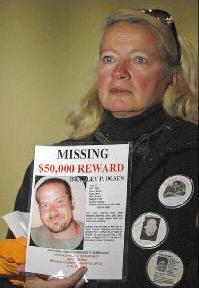 Susan Olsen holding poster
of her son Bradley Olsen missing since 01/19/2007
Call DeKalb Police Illinois
815-748-8400

Bradley Olsen Timeline
by www.acandyrose.com


---