---
Confidential Tips:
If you have information regarding this case and want to send anonymous or a confidential tip:
tips@crimeandjustice.us
Or Snail Mail to: Crime & Justice
P.O. Box 104, Denton, MD 21629

---

---

---
Wichita, Kansas
Sedgwick County
Roberta "Bobbie" Lynn Ownbey was born in Sedgwick County, Wichita, Kansas, on a Tuesday, April 6, 1954, she was the only child born to Robert Lynn and Janice Lee Ownbey
City of Wichita, Kansas
Kansas Towns: Wichita
The Wichita Eagle News
Wichita Photo Archive
Wikipedia: Wichita, Kansas
---
Buffalo, Oklahoma
Harper County
Bobbie was less than two months old when her father, Robert Lynn Ownbey was killed while serving in the U.S.Navy. Her mother Janice Lee Ownbey moved to Buffalo, Oklahoma where her husband's parents, John and Sadie Ownbey lived.
Buffalo, Oklahoma
Photos of Buffalo, OK
Buffalo Centennial 2007
Wikipedia: Buffalo, OK
Buffalo, OK Newswire
---
Woodward, Oklahoma
Woodward County
Janice and Bobbie moved to Woodward where Bobbie graduated from Woodword High School in 1972. Later, Bobby married Ricky Lynn Shepard and they had one daughter, Brooke Lynn Shepard in 1978.
City of Woodward, Oklahoma
Woodward, OK Main Street
Woodward High School
Woodward Class 72 Reunion
First Christian Church
Wikipedia: Woodward, OK
Woodward, OK Newswire
Woodward News Online
---
Mutual, Oklahoma
Woodward County
Bobbie's second husband was Terry Lynn Daniel and they married February 9, 1985 and lived in Mutual. His parents, John Floyd and Juanita Daniel owned Northup's Jewelry Store in Woodward where Bobbie had worked at one time.
County of Woodward, OK
Wikipedia: Mutual, OK
Mutual, OK Newswire
---
Watonga, Oklahoma
Blaine County
Terry had two children, Trevor and Tatum from his previous marriage to Rhonda Canaday. They were divorced in May 1984. Terry and Bobbie moved to Watonga in 1986 and he opened his own store the called Daniel Custom Jewelers.

On January 2, 1988 Roberta "Bobbie" Daniel was murdered in her home at 520 North Weigle, Watonga, OK 73772
Blaine County Government
All About Watonga, OK
Tour Watonga Main Street
Watonga Christian Church
Wikipedia: Watonga, OK
Watonga, OK Newswire
Watonga Republican News
---
Goldenrod Cemetery
(Ownbey Cemetery)
Buffalo, Oklahoma
Harper County

Roberta Lynn Daniel
Apr 06, 1954 - Jan 02, 1988
Robert L. Ownbey (Father)
(OK S1 USNR WWII)
Feb 20, 1927 - May 30, 1954
Janice Miller (Mother)
Aug 05, 1926 - Jan 17, 1994
Sadie Ownbey (Grandmother)
May 2, 1893 - Dec. 5, 1965
John J. Ownbey (Grandfather)
Jan. 11-1891 - May 11, 1974


---
Other Links
http://www.newsok.com/
---
.
.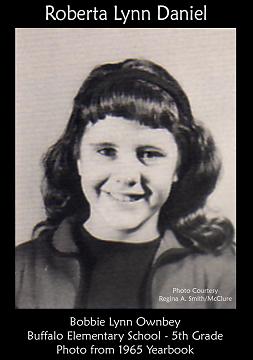 Gina McClure's Memories of Roberta "Bobbie" Lynn Ownbey (photo supplied by Gina McClure from her Buffalo Elementary School yearbook 1965)

"I am writing about Roberta Lynn Daniel. We were young girls together in Buffalo, Oklahoma and spent a great deal of time with our grandparents who were neighbors. Bobbie Lynn and I also took dancing classes together, a huge hobby and great love of hers as a youngster. She had beautiful long dark curly hair and a wonderful smile. She was an only child and had been raised by her mother, Janice. Her father was military and as I recall, had been killed in the military and never really knew her, or if he did, she was very very young.

As irony would have it, Bobbie Lynn and I actually shared a life changing experience together. I can't actually recall the exact time of year, but know that it was during the school year, warm weather and something unusual happened that day. Her grandmother, Sadie Ownbey, had invited me over for breakfast, not a typical thing to do, but she was very insistant, so I joined them. We had waffles, bacon, eggs and juice. Then she gave us money to go to the Saturday or Sunday matinee (not sure). We were excited and headed off to the movie. They lived in a modest home with the typical wooden screen doors. We arrived home from the movie and the screen door was locked. The living room couch was directly to the left of the door and we could see her grandmother, Aunt Sadie (as I referred to her), lying there asleep. We knocked but couldn't seem to rouse her. So Bobbie made the comment, and I quote, "Grandma sleeps like she is dead." So we went to the garage and got a piece of wire to stick through the screen to pop up the screen latch that would enable us to go inside. Still Aunt Sadie didn't stir. When we finally went in, Bobbie went to the couch and her grandmother was lying there with her eyes half way closed. Bobbie shook her arm and Aunt Sadie's eyes popped open and Bobbie screamed that she was dead. I felt her and she was very, very cold so I ran next door to get my grandmother, Alma Jones. Granny came in and tried to revive her to no avail and called the ambulance. She was pronounced dead at the scene. I don't remember where Bobbie's grandfather, Jack, was at the time (he was a retired Sheriff). I called him Uncle Jack. I do remember that Bobbie Lynn had to be sedated and was out of school for a couple of days.

I can't count the number of summer nights that the neighborhood kids would rally around and gather behind her grandparents home to play hide and seek, making the big iron swing set home base, or the back yard 'camping' picnic trips we had.

Then years later, after I had left Buffalo, married then returned, I was working at a local convenience store part time in the evening and saw on the news that a Watonga woman, Roberta Lynn Daniel had been found brutally murdered in her home. My cousin was there at the time and was the one who recognized that it was Bobbie Lynn. I was absolutely stunned, knocked off my feet. I have kept up with the case off and on through my Mom who still resides in Buffalo and remains convinced that Bobbie's husband was responsible for her death.

A year or so after her death I had a seemingly very real dream about Bobbie being murdered. I don't know details of the case but I envisioned her in a white bath robe running down some stairs from someone who was chasing her with a bat. I remember a round window with stained glass that was broken, and her screaming and being stabbed, although it was all very vague. Then I woke up very frightened.

Somewhere at my Mom's there are old 8MM movies of dance recitals with Bobbie and the rest of the girls that took lessons under Lorraine's Dance (of Woodward). I also have some photos of our dance groups in our recital costumes.

Bobbie was also a cowgirl of sorts and rode barrels. She and her Mom moved to Woodward when she was in the 7th or 8th grade (I think, not sure of her age).

I heard she left behind a daughter, Brooke and that she strongly resembled her mom. I truly hope that Bobbie's murderer can be found so she can rest in peace and her daughter can have resolve."

Thanks,
Gina McClure
(maiden name Regina Ann Smith)


---

From ACandyRose (www.acandyrose.com)

I want to thank Bobbie Daniel's friends for giving me the opportunity to donate this space as a memorial web page in Bobbie Daniel's memory. Bobbie's voice has been silenced the night of January 2, 1988. I am pleased to offer a platform where her voice can be heard through her friends and family. Somebody murdered this young mother almost twenty years ago and there has been no justice, no closure, no killer behind bars to pay for this crime.

There are people who care because......

Love Is..........

Giving .... When there is no more to give.
Hoping .... When there is no hope.
Understanding .... When it's needed.
Understanding .... When it's not.
Caring .... When no one is around.
Hugging .... Without a sound.
And sailing .... When there is no wind.
by dr 1983

ACandyRose
www.acandyrose.com


---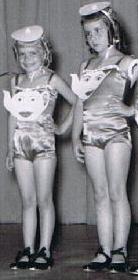 Dorothy and Eva's Memories of Roberta "Bobbie" Lynn Daniel
and her mother, Janice (Ownby) Miller

From: Eva
Date: 09/15/2007 01:31:27 PM
Subject: I called Dorothy last night

"I called Dorothy last night. We talked about Janice and Bobbie Lynn.

Jan was born August 5, 1926, in Beaver City, Nebraska. She died January 17, 1994. She was 67 years old. Melvin Rittenhouse gave the eulogy. Jan is buried in Ownbey cemetery on Highway 64, East of Buffalo. Brooke Shephard is the lone survivor.

Janice married Bobby Ownbey in the early 1950s. After her husband's death, Jan and Bobbie Lynn moved to Buffalo, Oklahoma.

I first met Jan in 1957, and we became fast friends. We would have coffee together while Bobbie and my youngest daughter, Anita, played. Bobbie was a year older than Anita but they got along great. Bobbie also attended Anita's birthday parties. Bobbie was a very pretty and nice little girl.

I used to visit Jan in her mobile home when I came to Buffalo while living in Texas. She had talked about getting a mobile home "when she got her money", also a place for a horse or two. She did get it outside of Woodward, and we were all so happy for her. She had lived in such an old house before she got the mobile home.

Jan and I enrolled in an exercise class in the beginning of 1962. There were 8 of us, and we had a lot of fun. About that time, Lorraine Taylor from Ashland, Kansas, started to give dancing lessons at the Legion Building in Buffalo. Both Bobbie and Anita took lessons. Bobbie seemed to really enjoy it and got good at it. A little later, Lorraine also gave lessons to adults, and we had a great time. The lessons were on Tuesdays and we'd go to Woodward on Saturday evenings to practice what we had learned.

In 1967, Jan and Bobbie moved to Woodward. Dort and I drove down to visit Jan and Bobbie twice a week for the next few years. Jan was always so happy to see us. Lorraine had started giving dancing lessons in Woodward, and Bobbie continued to dance. Jan was so proud of her. She could spend the whole evening talking about Bobbie. They were very close. Janice was a great mother.

While they were living in Woodward, Jan worked at the Wayfarer Inn, Red Slipper, and a sewing factory. She was working at the Stock Exchange Bank but quit when Bobbie died. It was such a horrible death.

Jan lived in Watonga a while to take care of the children. She returned to Woodward in 1988. She was working for Briarwood Apartments, right across from Dorthy's home,.at the time of her death.. Dort was so good to Janice. She brought her food and looked after her. I am sure that Dort was the most loving and caring friend that Jan ever had. Dort always comes through in times of trouble."

Eva


---

Friends of Bobbie Lynn

"When I think of Bobbie Lynn a smile comes to mind. My memories of Bobbie are those of our years going to grade school together, before she moved in 1967.

I remember a girl who always wore a big grin and she had the most mischievous twinkle in her eyes. As she got older, I would see that mischief play out from time to time when she would come to Buffalo and spend the weekend with her grandfather Ownbey. She was no different that the rest of us girls and we would wait in anticipation for her and Regina to run across the street to the Dairy Boy and fill us in on the latest prank, usually pulled on Grandpa.

Bobbie was good at dancing and she was also a very talented horseman. I remember her and Jan loading her horse into the trailer parked in the street next to the little brown shingle house they lived in. Bobbie couldn't have been anything but good because her mother was the nicest and friendliest person I had ever known.

As we went our separate ways, I didn't hear much about Bobbie, but this one event stands out, it must have been in the fall of 1987. I was heading back to Texas and stopped to visit with Regina at the Wal-mart parking lot. As I pulled up, Bobbie was getting into her vehicle to leave and at the same time she tossed her white coat into the back seat. I remember that coat being mentioned in the trial or investigation... Oh and I remember the car was a white Cadillac and me thinking at the time, how odd she looked driving that big ole car.

Bobbie must have been a really special person for people after 20 years to come forth expressing their admiration, feelings and love for her. I and many other could only hope for such homage after our deaths."

Roni Hickman Holden


---

This is for Bobbie Lynn's daughter, Brooke. Memories!

Bobbie Lynn & I were really great grade school friends. We were always playing together. It was so much fun going to her house to play. She had all the cool stuff to play with and she didn't have younger brothers like I did that would get in your way. We both were in tap & ballet dancing classes together. I just knew one day she would be one of the great dancers we would see on TV. She was a natural! I really missed her when she moved to Woodward. Although we didn't stay in close contact, we did enjoy visiting when we ran into each other. It was so much fun seeing each other's children. I remember we ran into each other one time in Wal Mart & Brooke was just a baby. Bobbie Lynn & Janice couldn't wait to show her off to me. She was so pretty!

I found some of my grade school pictures, dance pictures and my autograph book that had many pictures of Bobbie Lynn & friends. It was fun to remember those times. I'm sure my mom has many, many more pictures.

It was hard for Bobbie Lynn's classmates in Buffalo to hear about her death. She may be gone but not forgotten. This is what she wrote in my autograph book.. 2 good + 2 be=4 gotten! Brooke, live for your mom. She would want you to have the greatest life of all!

Grade School Friend, Christina


---
.