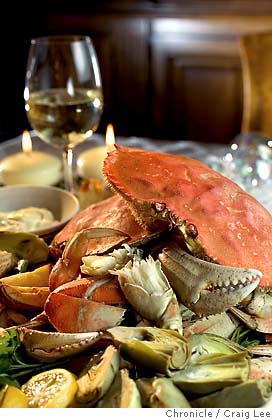 ---

Turkey


---

Little Hot Dogs with Barbecue Sauce


---

Carrots
and
Celery
?????


---

Peanuts
?????


---

Snacks
and
Hors d'oeuvres


---

Wine


---
.
December 25, 1996

Cracked Crab

---

NOTE: Photo of cracked crab is not actual crime scene photo


---
White's Christmas Party served "left over" Cracked Crab

"With a gift basket of different coffees in hand, we arrived at the Whites'" (snip) "Several family members were visiting from out of town, Priscilla's sisters, companions, and parents." (snip) "Most of us helped ourselves to the snacks and hors d'oeuvres that Priscilla had prepared, including leftover cracked crab, which they enjoyed as a family tradition on Christmas Eve." [DOIpg7]


---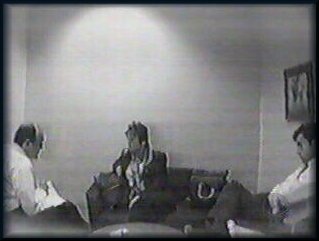 1998-06-23: Patsy Ramsey Interview (Thomas Haney, Trip DeMuth) (Screen Capture from "CBS 48 Hours - Searching for a Killer" 10/04/2002)

Patsy Ramsey Interrogation by Thomas Haney and Trip DeMuth - Present also were Patrick Burke and Ellis Armistead June 23, 24, 25, 1998 - Boulder, Colorado


http://www.jonbenetindexguide.com/1998BPD-Patsy-Interview-Complete.htm

0491
18 TRIP DEMUTH: Was JonBenet hungry at the
19 time? Did she eat the cracked crab?
20 PATSY RAMSEY: I can't tell you. You know,
21 we got to the house, the kids start running around and
22 we kind of don't --
23 TRIP DEMUTH: Okay. But you do remember the
24 cracked crab.
25 PATSY RAMSEY: I just remember Priscilla had

0492
1 dip and she said, I know your kids like seafood. I
2 will hold this little plate out for JonBenet to make
3 sure she gets some.
4 TRIP DEMUTH: You remember that.
5 PATSY RAMSEY: I remember that. Well, I
6 thought that is nice to make sure that we don't devour
7 it before the kids get some, but she specifically
8 mentioned JonBenet's name. And at that time it kind
9 of, you know, flew over. But then when you are trying
10 to remember things later, it seems, you know, a little
11 strange.


---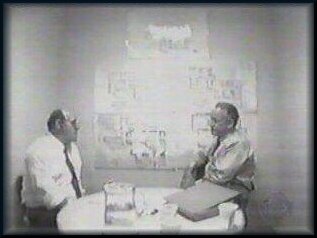 1998-06-23: John Ramsey Interrogation by Lou Smit and Mike Kane(Screen Capture from "CBS 48 Hours Investigates - Searching for a Killer" 10/04/2002)

John Ramsey Interrogation by Lou Smit and Mike Kane
Present also were Bryan Morgan, PI David Williams
June 23, 24, 25, 1998 - Boulder, Colorado


http://www.jonbenetindexguide.com/1998BPD-John-Interview-Complete.htm

0100
4 They had hors d'oeuvres and they made a special
5 thing about cracked crab, that's some kind of
6 family tradition that they always had cracked crab
7 at their Christmas day dinner as an appetizer.

---
16 But
17 then they had a typical, you know, in the kitchen
18 cooking the dinner, snacking on hors d'oeuvres
19 kind of evening. And then they had dinner. They
20 had the table set up in the dining room and they
21 had two tables down in the living room and
22 everybody kind of sat down to eat.

---
0101
6 JOHN RAMSEY: Well, all I can specifically
7 remember was the cracked crab. I think they had a
8 turkey dinner. But I think she made, she always
9 makes these little hot dogs with barbecue sauce
10 that the kids love. I remember her specifically,
11 Priscilla coming over this big plate of cracked
12 plate making little plates, and I wanted to save
13 these out for JonBenet and she took them out and
14 put them in the plate.
15 LOU SMIT: What were they?
16 JOHN RAMSEY: I think it was the cracked
17 crab.
18 MIKE KANE: What is cracked crab? I'm from
19 the east. I don't know --
20 JOHN RAMSEY: She doesn't take all of it.
21 It's like pieces of crab that are cut up. They're
22 cold.
23 MIKE KANE: They're real crab?
24 JOHN RAMSEY: Yeah. They're boiled like.
25 They're already broken. They're like just chunks

0102
1 of, like somebody has already broken up the legs
2 and I guess it was like king crab that was
3 partially open.
4 MIKE KANE: Okay.
5 JOHN RAMSEY: But she specifically, I
6 just remember her making little plates going down
7 the line. Which, in retrospect, seems a little
8 strange.
9 LOU SMIT: Did JonBenet like that?
10 JOHN RAMSEY: I don't remember if she ate it,
11 but, yeah, she would have liked it.
12 LOU SMIT: Do you remember any fruit like
13 apples, oranges or anything like tat?
14 JOHN RAMSEY: Not specifically.

---
21 But I can tell you there was some finger
22 foods. There were probably carrots and celery and
23 stuff like that.
24 LOU SMIT: Okay.
25 JOHN RAMSEY: They usually had peanuts around.

0103
1 I don't remember specifically having peanuts, but
2 that would have been very normal.

---
0104
6 JOHN RAMSEY: Oh, I don't remember, but
7 certainly not more than two glasses, and only if
8 like the glass is not very full. I like to sip on
9 it. I might have two glasses.


---