2007-04-25 00:00

Scott Huss' mother and brother Michael took Peter to lunch


---
www.winknews.com
Click Photo Below
to watch Video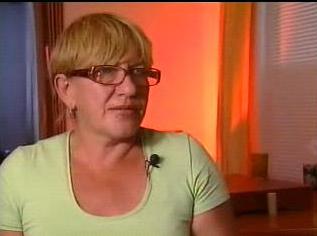 "Lunch. She had lunch and my daughter is dead," said Eleana Kuchinskaya. "Nobody called to police. Nobody. Why? I cannot understand why she is still not in jail," cried Kuchinskaya. "11 to 2 o'clock. 2:15, 2:45, Peter was with Scott's mother and she did not call police."
---
Wednesday
"On April 25th, at 11 o'clock in the morning, 8-year-old, Peter Shalin showed up at his grandmother's front door in Central Florida. He was covered in blood, carrying a suitcase, which contained a letter from his step-father, Scott Huss. New documents released by the state's attorneys office say the 8-year-old witnessed the murder, then Huss dropped the boy off at his mother's home in Longwood.

Those reports show, Joyce Huss, Scott's mother found Peter at 11 a.m. She then contacted Scott and he told her, "don't tell anyone, don't call anybody." Ten minutes later, Joyce Huss picked up her other son, with Peter. Michael Huss, Scott's brother, told detectives, "I had notice some stains on his shirt, didn't really think much of 'em." He went on to say, "He (Peter) did tell us his mother was stabbed and that she was in the hospital." But neither Joyce nor Michael Huss called police. They went to lunch, and took the boy with them.

The documents went on to show that at one o'clock, Joyce Huss dropped her son, Michael, back at home. That's when Peter told them, still in the blood stained clothes, "my mom is dead... my mom is dead." Joyce Huss did not call police, instead she took Peter to Wal-Mart to buy new clothes. In a written statement to Longwood Police, Huss wrote, "on the way to Wal-Mart he did say, 'if she is dead, I may be here a long time."

Reports say it wasn't until 2 p.m. that Joyce Huss read the 12-page manifesto Scott left her. The letter was an apparent suicide note. After Huss read the note, she called her son Michael, he went to home, and then he called authorities. That happened at 2:40 p.m., nearly four hours after Peter first appeared."

Interviews with Scott's relatives reveal Peter initially told them "a man broke into his home and stabbed his mother." He later broke down and admitted it was his step-father, Scott, who killed his mother. Peter was heard saying, "he killed my mother and told me not to tell, or he was going to come back and kill me."

07/30/2007 Headline: "Bloody clothes and suicide note, not enough for murder suspect's mom to notify police?"