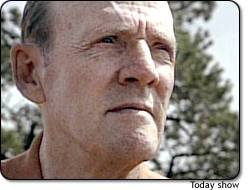 NBC Today Show: "IN A SPECIAL six-part series of exclusive interviews on "Today," Detective Smit and others who worked the Ramsey case, will be speaking out to explain their theories and talk about evidence they say the on-going investigation has ignored. For the first time, "Today" will show this evidence, including many never-before-seen crime scene and autopsy photos, as Smit explains his case."

"We should note John and Patsy Ramsey have never seen many of the photographs "Today" will show and discuss over the course of this series, but they are aware we'll be showing them."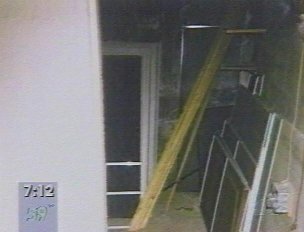 Crime Scene Photos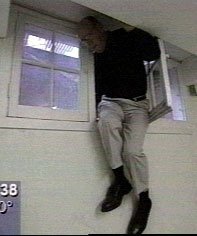 Lou Smit climbing
in basement window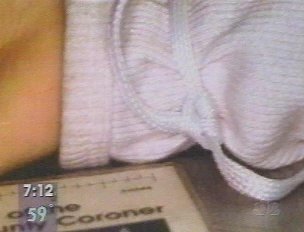 Crime Scene Photos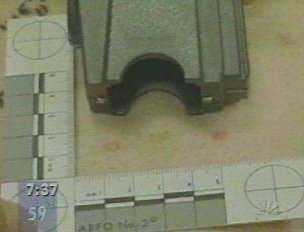 Stun Gun Pigs

.
.
April 30, 2001 NBC Today Show Interview (by Katie Couric)

Apr 30, 2001 thru May 4, 2001 Screen captures

Apr 30, 2001 NBC Today Show (Part 1) - Smit: An intruder killed JonBenet

Smit: "You know Katie it was the second day I was on the case. The very first photograph that I'd seen of that basement window - the window was wide open. And I said 'Wait a minute take a look at that.' That was one of the light bulbs that went off, and one of the red flags that I seen."

May 01, 2001 NBC Today Show (Part 2) - Smit: The killer used a stun gun

"This is what it sounds like (demonstrates stun gun noise). There's an arc between the two contacts. If you look very closely at the photographs of the injuries on JonBenet, there's a similar blue line that appears between the two contact marks on JonBenet."

May 02, 2001 NBC Today Show (Part 3) - Smit: JonBenet was strangled

"Just the way that the ligature on her hands was constructed, again is a fantasy in the mind of this killer. This wasn't just tied on her wrist, with little granny knots on both sides, and a rope tied to her. The way that this was constructed was to make two loops with a tether about 15 inches in between. The loops were then placed over the hands of JonBenet, with a slipknot, and tightened to give the appearance of bondage."

Couric: "There were reports that there were red fibers found on JonBenet that matched a sweater Patsy Ramsey was wearing."

Smit: "Patsy Ramsey was sitting on the same blanket, probably, that night, when she changed JonBenet's clothing."

May 03, 2001 NBC Today Show (Part 4) - Smit: Ransom note points to intruder

"Smit: "Well, there's a couple of good reasons for not taking a ransom note into the house. If you're caught, for instance, taking in a ransom note, you have it in your pocket when you come into the house, for instance, and there's an alarm that goes in or the police check the house or somebody sees you, it's pretty obvious what your plan would have been."

Smit: "That's a very important part of this too. And that, I think, shows that the person who was writing this note had plenty of time to do it. And it starts off with "Dear Mr. And - " and it starts the word M on Mrs. Then it stopped. Between that practice note and the ransom note, by looking at the torn out pieces of the - of the ransom note, I believe there was close to six pages that are missing. Those pages are not found in the house either, Katie."

Smit: "No, Patsy Ramsey cannot be completely ruled out. The handwriting examiners - there was at least six of them that looked at all of the handwriting exemplars, and all of the handwriting of Patsy Ramsey. She does have certain characteristics, which are close in nature to that on the note, but what some of the examiners have said, and the majority of them - is that there are many more differences. In other words, it's not a positive at all that Patsy Ramsey wrote that note."

May 04, 2001 NBC Today Show (Part 5) - Smit: 'For JonBenet, and for the case

Smit: "The main thing you learn as a detective when you go into a crime scene, is you always try to get an interview with the people that are there. If you find a body, and you realize that there's a homicide that occurred, you always bring them into the station. If you find evidence that they'd been involved in a violent death and they have marks or bruises on them, that goes to their guilt. But if you find that they don't have these things, it also goes to their innocence."

Couric: "And you do it separately? You separate them?"

Smit: "Yes. And you take all their clothing. And you interview them separately. That's the time to do it."

Couric: "Why wasn't that done?"

Smit: "I don't know. Somebody made a decision not to do that."

Couric: "In fairness to the Boulder Police Department though, they did try on several occasions reportedly to get the Ramseys to be interviewed down at the police station, and the Ramseys reportedly refused. I mean if I were a parent and I want to find out who murdered my child, God forbid, I would do everything in my power to help the police solve the case."

Smit: "Yes Katie. But you would also go by what your lawyers advised you to do."

Couric: "Do you think their lawyers did them a disservice in some ways by protecting them too much, at least in the court of public opinion?"

Smit: "Yes, in the court of public opinion that is the perception. But from the lawyers' perception is that they were trying to keep their clients out of jail. That was their main focus was to protect their clients. Their main focus was not public perception."
.