2012-08-01
Wednesday
InSession Facebook
---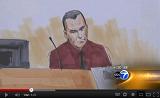 Thomas Pontarelli
(Artist: L.D. Chukman)
ABC7 Chicago News
---

Chicago Tribune
Wednesday, 08/01/12
---
08/02/2012: Burmila gave this instruction to the jury regarding the imporper testimony: "I have an instruction on the law I'm going to read to you before we proceed any further in the case. I will re-read this instruction at the end of the case. You have heard the testimony of Mr. Thomas Pontarelli... During the redirect examination, the assistant state's attorney asked the question which she knew would draw an inadmissible response. You cannot consider any of the testimony given by Mr. Pontarelli during his redirect examination, and more specifically whether he said he had gotten a message from Mr. Peterson, felt intimidated, or anything about a bullet. The Court does not mean to suggest that you must necessarily disregard the remainder of Mr. Pontarelli's testimony... It remains your duty to reach a verdict on the facts before you, and not on any other grounds," said Burmila.
---
Thomas Pontarelli Testified (Kathleen Savio's Neighbor)
Testified as State Witness for the Prosecution - State vs Drew Peterson
http://www.acandyrose.com/2012-08-01-ThomasPontarelli.pdf

- Pontarelli house and Savio house were "about 15 feet apart."
- Drew and Kathleen Peterson, two children moved in 1999
- Kathleen Savio asked him to install a lock "on her bedroom door."
- Pontarelli: "He [Drew] told me he didn't want anyone moving my stuff"
- Drew told him, "and 'any friend of hers was an enemy of mine."
- Pontarelli said the hole in Kathleen's bedroom door was before 2004
---
SATURDAY:
- 02/28/04: Pontarelli family return from Orlando, Florida vacation.
- 02/28/04: Pontarelli last saw Savio alive in afternoon outside her house.
- 02/28/04: Mary invited Kathleen to come with them to a party but she declined.
- 02/28/04: Pontarellis (Tom, Mary, Nick) left for the party around 6pm
- 02/28/04: Returning home, around Midnight, they saw Kathy's bedroom light on.
---
SUNDAY:
- 02/29/04: Thomas Pontarelli got up Sunday Morning 08:00am.
- 02/29/04: His wife Mary sent son Nick to invite Kathy to dinner.
- 02/29/04: Nick came back and said there was no response at Kathys.

---
MONDAY (AFTER 10:00pm):
- 03/01/04: Locksmith was already at Savio door when Ponterelli arrived
- 03/01/04: Kathleen's lights were NOT on, doesn't know who turned them on.
- 03/01/04: Ponterelli thinks Steve and Mary went in first; Nick was with him
- 03/01/04: Ponterelli went through kitchen toward garage to check car.
- 03/01/04: When Thomas heard scream, Drew was standing in front door foyer
- 03/01/04: Ponterelli ran past Drew and up the stairs, Drew followed behind.
- 03/01/04: Ponterelli said: "Where was her clothes that she had on?"
- 03/01/04: Ponterelli said: "Where was her clothes she was going to put on?"
- 03/01/04: Ponterelli said, "There was no rug, there was no towel."
- 03/01/04: Drew was beside him, he said, "What am I going to tell my children?"
- 03/01/04: Ponterelli's wife, son, & Carcerano all left Savio's house
- 03/01/04: Only Ponterelli and Peterson were left alone at Savio.
- 03/01/04: Ponterelli left Savio's wo/Drew BEFORE Paramedics arrived.
- 03/01/04: Ponterelli "I was out of house, they came right after I left.
---
- State asked Tom Pontarelli to identify a photograph of Stacy Peterson
- Pontarelli/Peterson's had barbeques, went to Lake Geneva together, camping.
- He was aware that only a portion of divorce was final before Savio's death.
- "It was clean, pristine, no ring around the tub, no soap scum. It was clean."
- Drew walked to landing outside bedroom door and made a phone call."
- On phone, Drew said "wife dead in bathtub, people are going to think he did it."
- Thomas did go to Drew's "new" house 3-4 times, once to borrow a power router.
- Garage door: Pontarelli "Yes, it's a latch lock, from the garage, there's a key."
- Kathy's vehicle was in garage, Ponterelli opened door to see if she was there.
- Nick, was with him at the time, adjacent to the mud room/laundry room.
- When he heard the scream, Pontarelli: "I was still in the laundry area."
- We ran up the stairway past Drew, and Drew came up behind, like 2-3 steps.
- He didn't remember saying he waited w/Drew & Carcerano for paramedics.
- Pontarelli didn't remember talking to officer Sud in Carcerano's basement.

---
Did NOT see a Blue Towel
folded laying on bathtub
shown in crime scene photo
---
Defense Motion: for Mistrial
Motion Denied
---
03/01/04: Thomas Ponterelli:
"Then we walked out to the landing right outside the bedroom door, he [Drew] made a phone call; I believe it was his cell phone, he says to the person that he just found his wife dead in the bathtub, and people are going to think he did it."
---
Patton: "What was it that you felt intimidated by? What did you say to him?"

Thomas Pontarelli: "We had a conversation where he was accusing me of changing the locks on the front door. I said I didn't, but I got his message yesterday. He asked what was that. I said I found a .38-caliber bullet on my driveway."
---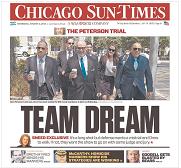 Chicago Sun-Times
Thursday, 08/02/12
---