2007-11-29
myfoxchicago.com
November 29, 2007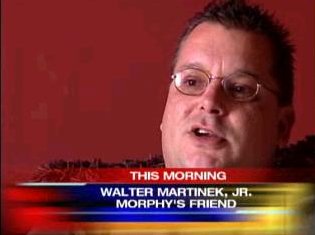 Walter Martineck Jr
---
Morphey's neighbor and good friend
MARTINECK:
"He said if he could do it to his alleged wife at the time, whatever, he could do it to his brother."
ILL
11/29/2007 Anita Padilla (www.myfoxchicago.com) reporting (VIDEO):
"Morphey Told Me...'I Don't Know What to Do, You Can't Tell Anyone'"
ANITA PADILLA: "In this exclusive interivew, Walter Martineck Jr. hasn't told anyone other than state police investigators what his good friend Thomas Morphey told him on the evening of October 28th, the very day Stacy Peterson disappeared. Morphey, he says was visably shaken." - WALTER: "Drew had taken him back to his house and said, 'Hey can you help me move something?' And Tom, you know, unwittingly, 'yeah okay I'll help ya' and he had gone upstairs to the master bedroom and brought a tote down, a blue tote, a seal blue tote and then he got really shooken up and he goes, 'I know she was in there.' And I go, 'What do you mean you know she was in there?' and he goes 'it was warm to the touch'" - PADILLA: "He went to police when he learned his good friend Thomas Morphey, Drew Peterson's step-brother had tried to kill himself and he hates that Drew Peterson's attorney is assassinating Morphey's character."