2007-11-26
NBC "Today" Show
November 26, 2007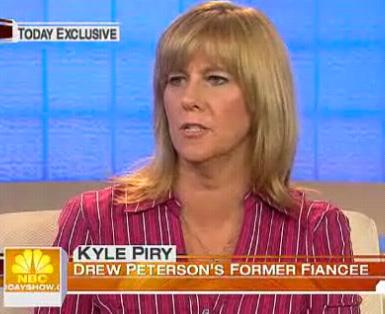 "To look back, I don't think at that time I would have thought he was capable of it," she said. "But after I've heard the stories and things that have occurred with previous wives, they're just very, very similar to the things that occurred with me. It seemed like it started with me."
---
Kyle Piry:
"I just think it's really important that girls pay attention to the little signs"
---
"Piry is 46 now and married with a family of her own. She had met Peterson while she was working at a gas station and Peterson, seven years her senior, had come to investigate a crime."
ILL
11/26/2007 NBC "TODAY SHOW" Exclusive (Kyle Piry Interview)
(Link above is an archived backup copy of this NBC Today Recap)
---
"Kyle Piry was just 20 when she broke off her engagement to a handsome and charming Chicago-area cop named Drew Peterson. She says it was just a lot of little things he did that made her uncomfortable. But 26 years later, as police look for that man's fourth wife and take a new look at the untimely demise of his third bride, Piry tells TODAY she probably should have been more afraid of Drew Peterson than she was when they dated. I look back, no, I wasn't afraid — probably naively," Piry told TODAY co-host Meredith Vieira on Monday of her experience with Peterson. Asked to describe her reaction to news stories that Peterson is being investigated in connection with the death of his third wife, Kathleen Savio, and the disappearance of his fourth wife, Stacy Peterson, Piry said was in disbelief initially. "I was shocked," Piry said."
---
"He grilled her about places she went and people she saw, and, she discovered, he sometimes followed her when she went out. When he got angry, he called her names and was verbally abusive, but he never threatened her physically until she had broken up with him and went back to his house to pick up some of her things. "It turned into an argument," she said. "He pushed me over the cocktail table, got me on the ground, straddled me with his arms – put my arms against the ground with his legs. That upset me. I had never had anyone treat me like that before."
---
"Piry even filed domestic abuse charges with the Bolingbrook police, but, she said, his friends on the force encouraged her not to pursue them. "I can't say they were covering up," she said. "They just wanted it to go away." For a time, she continued, Peterson continued to harass her, following her when she went out on weekends and pulling her over to write what she called frivolous traffic tickets for such violations as having bald tires. But Piry said she didn't think of Peterson as dangerous. "Hearing all the details now, it's a different person than I knew," she said."