2007-12-24
findstacypeterson.com
December 24, 2007
Internet Forum posting found from unknown individual
---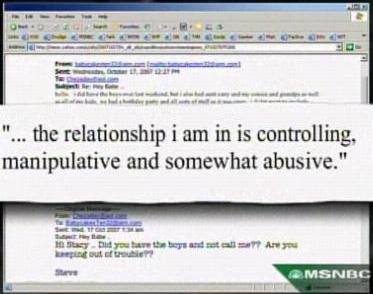 Screen captures from MSNBC 'Live with Dan Abrams Front Page'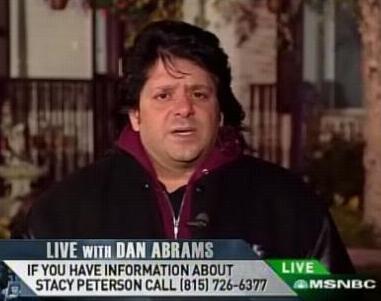 Steve Cesare
---
E-mail that Stacy wrote to her friend Steve Cesare
10/17/2007
11:26 AM
---
Wednesday, October 17, 2007 1:34 am From: (Steve cesare), To: (SP), Subject: Hey babe..., Hi Stacy..Did you have the boys and not call me?? Are you staying out of trouble??
ILL
www.findstacypeterson.com forum posting by "DetHead", Full Member, Posts: 517, Thread titled, "Steve Cesare/Stacy E-mail-Dateline NBC" on: Today [12/24/2007] at 09:34:33 PM, Quote:
"Here is the entire contents of the e-mail partially discussed on Dateline NBC:

"RE: Hey babe..
Date: Wednesday, October 17,2007 10:26:49 am
From: (SP)
To: (Steve cesare)

Hello, i did have the boys over last weeked, but i also had aunt cany and my cousin and grandpa as well as all of my kids. We had a birthday party and all sorts of stuff so it was crazy. I didnt want to exclude you at all but was more so hopeing that i could have them again soon and it would be more intimate.the kids were all over! dont worry I wont forget you.im sure you understand. i was aslso thinking that my aunt candy time w/them is so extremely limited that i didnt want to take any away from her.
as far asme staying out of trouble....not really. I have been arguing quite a bit w/my husband. as I mature some w/age i am finding that the relationship I am in is controlling, manipulative and some what abusive. as I try to help make changes to this he has become argumentative. tomorrow is our 4 year aniversary and I am not as excited as the years that have past. I dunno?!?!?!?! we'll see what happen I guess, if you could keep me in your prayers i could use some wisdom,protection and strength.
thanks alot, stacy"