2008-01-15
myfoxchicago.com
January 15, 2008
Executor:
James B. Carroll
---
Witnesses:
Alex J. Morelli
Gary L. Marcolina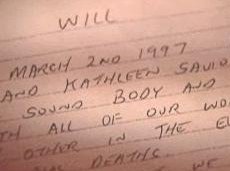 THE WILL 03/02/1997
FULL Transcipt HERE

---
The 03/02/1997 WILL was hand written by Drew Peterson
---
CRAIG WALL: "Now that long forgotten Will, evidence in the investigation."
---
WILL WITNESSES:
Alex Morelli, Drew's former partner in the BBPD says he wants nothing more to do with Peterson
---
Gary Marcolina, Drew's best man at his wedding refused to talk to the media
---
Drew's Uncle, James B. Carrol declined to comment
---
ILL
01/15/2008 Craig Wall (www.myfoxchicago.com) reporting FOX NEWS EXCLUSIVE (VIDEO):
"Drew Peterson's Will With Kathleen Savio Subpoenaed by Grand Jury"

CRAIG WALL: "The date of the WILL, March 2, 1997, nearly seven years later almost to the day Kathleen Savio would be found dead in her bathtub. That simple handwritten statement would become her Last Will and Testament." - "It had been a bitter divorce. Her husband was in the middle of an adulteress affair with 19 year old Stacy Peterson and while Kathleen remembered to change the beneficiaries on her life insurance there was still that WILL." - "So despite the divorce, Drew Peterson got all her furniture, jewelry and the money from the sale of the home, about $288,000 thousand dollars. He was also named guardian of the children's million dollar trust fund." - "But take a close look at the will."
---
DREW PETERSON: "There really wasn't nothing sinister about it, just something simple if something happen if we were on vacation." - "I wrote up the WILL with Kathleen's instructions and we simply had a couple friends that were over to witness it and that was that simple."
---
CRAIG WALL: "Those friends turned out to be Peterson's former partners in the Bolingbrook Police Department and according to the Savio family, Drew's best man at their wedding. Alex Morelli, Drew's former partner says he wants nothing more to do with Drew and has nothing positive to say about him. He said Drew has turned his world upside down. Best man, Gary Marcolina took off when we tied to talk to him. The old Will names James B. Carrol, Drew's Uncle, names him executor and gives him full control. He confirmed the account that he was going on vacation but declined to comment further. Once the Will was admitted into court, Carrol promptly fired Kathleen's attorney and discharged another lawyer appointed by the court to watch out for the best interest of the children. So Mr. Carrol had an obligation not to be looking out for Drew but to look out for Kathleen."
---
CRAIG WALL: "So who does it appear the executor was looking out for in this case?"
KAREN CONTI (Attorney reviewed probate in Savio's estate for Fox News): "Drew Peterson"